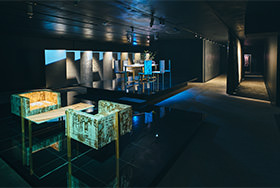 Hosoo Gallery Textures from Textiles Exhibition
Hosoo Gallery's latest exhibition, Textures from Textiles was opened to the public on June 4 2022.
The Textures from Textiles exhibition showcases Hosoo's various interior product lines that have been released to date. In addition, Naohisa Hosoo, the principal architect for Hosoo Flagship Store and furniture designer for this exhibition, plans to update the exhibition over time based upon his continuing architectural history research and cues from the textiles as a key to renewing "today's architectural thoughts."
The theme of this exhibition is "from textile to architecture" with the first volume of the series, titled "Genealogy of Construction," which focuses on interior ornamentation, such as furniture and wallpapers, not as accessories to architecture, but as partners that "construct" our lives.